SpiceJet Airport Check-in
Domestic Flights
All passengers are required to show their valid ID proofs at the time of check-in. This provision is also applicable to children and infants. There is also a requirement of carrying Passport and valid travel documents (including PIO card) for the foreigners/ NRIs or Non-Indian Nationals if they are traveling to Port Blair.
Check-In starts 2 hours prior to scheduled departure of flight. Check-in closes 45 minutes before the departure time. Boarding gate closes 20 minutes before flight departure.
It is mandatory to carry itinerary printouts to airport for check-in. If you do not have one, you can get the printout from the airport on paying a fee of Rs 100.
Connecting flights (domestic)
In the domestic sector, Spicejet will be issuing 2 boarding passes to a passenger. Check in is allowed till 45 minutes prior to scheduled departure for final destination from the transit point. If passenger fails to show up for boarding 20 minutes prior to departure at point of transit, then it will be treated as a 'Gate No Show' case and his or her baggage would be offloaded and handed over to him or her or to the concerned airport authority.
International Flights
Passengers shall report at least 3 hours prior to scheduled departure. Check-in would close 1 hour prior to scheduled departure (75 minutes for Dubai and Kabul). Boarding gate would close 25 minutes before scheduled departure (from Kabul, this period is 45 minutes). There will not be any refunds if the provisions of this check-in are not met by passengers.
Connecting Flights (international)
For international connecting flight, check in starts 4 hours and ends 60 minutes prior to departure time. Boarding cards are issued only up to the point of transit. In cases where passengers are coming from international flights and take connecting flights to domestic destinations, they are not allowed to carry more than 100 ml of liquid in their hand/cabin baggage. Duty free liquor is also not allowed as cabin baggage.
Spicejet Online Check In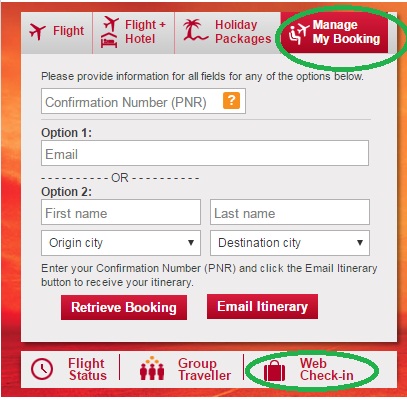 The facility of Spicejet web check in allows passengers to select seats and get the boarding passes through email or sms, which can then be printed and taken to the airport. At the airport, there is no need to queue up in the line if you are carrying only hand baggage and can proceed directly for security clearance. However, when you are carrying checkin baggage and you web check in, you will have to first go to the airport counter without standing in the line and get the bags tagged or stamped, and then proceed for securty clearance. This is applicable for domestic flights. In case of international flights, passengers are required to show up at the airport counter for verification of documents and again get the boarding passes. The benefit of web check-in their case is limited to selection of seats and having to report at counter at least 1 hour 30 minutes before scheduled departure of flight (instead of usual 3 hours).
Spicejet web check in is not permitted for passengers travelling with infants, expectant mothers, unaccompanied minors, wheelchair bound passengers and more than 9 passengers travelling in group. There could be other cases as well where web check in is not sufficient and passengers have to show up at airport checkin counters.
Spicejet online check in facility is available from all airports across the country, except from Jammu and Kashmir airports. It is also not available on Ex-international destination flights where passengers board from an international airport.
Spicejet Web Check In Cut-off Time
Web check in opens 48 hours before and closes 2 hours before scheduled departure of flights in case of domestic flights. For corporate users, the benefit is that web check-in opens right from the time of ticket booking and it remains open till 2 hrs before departure of flight. For international flights, it opens 48 hours and closes 3 hours before scheduled departure of flights.
Who are not allowed to Web Check in?
Passengers with infants, pregnant women, requiring wheelchair, or requiring any other special assistance
Passengers travelling in groups of more than 9 people
Unaccompanied minors
Spicejet Boarding Pass
Passengers completing the online check-in process would be issued the boarding pass. This can be downloaded to mobile or system and is even sent to provided email Id. It is important to take the print-out of the boarding pass to show at the airport. For security reasons, passengers are required to retain their boarding passes until they exit from airport at final destination.