Etihad offers different ways of checking in. Passengers can use the conventional way of visiting the airport for check-in. Alternatively, they can also use online medium or UAE city check-in facility.
Etihad Airport Check In
Airport check-in of Etihad begins and closes at certain hours. The cut-off times for different airports around the world are different. For most of the airports around the world, the check in at airport begins 3 hours before scheduled departure of flight and closes 60 minutes before departure of flight for economy and 45 minutes before departure for Business and First Class.
Here is the list of check in timelines for different airports.
Etihad Online Check In
Etihad offers online or web check in facility to its passengers. This can be done by:
a) visiting website of airline
b) using its mobile application
Timeline of Etihad web check in: Online check in opens 48 hours and closes 1 hour before scheduled departure. You can add special service request, perform seat selection, add baggage and either print the boarding pass or get it in your mobile or email. However, if wheelchair or infant bassinet is added to the service request then it is not allowed to check in online and the passenger would be required to check in at the airport.
You are required to provide either booking reference, frequent flyer number or e-ticket number of the carrier along with the last name of the passenger. This is shown below.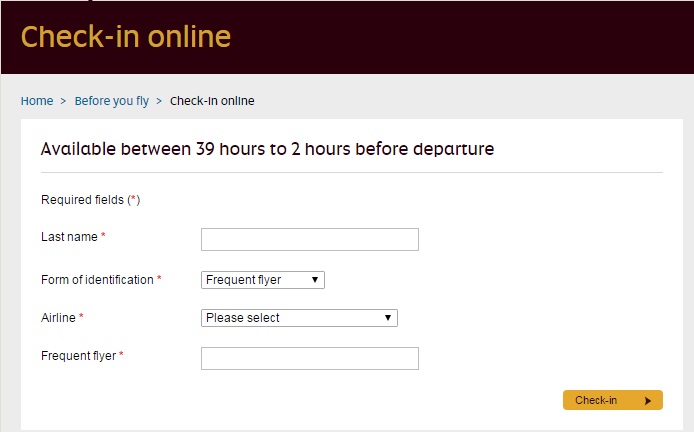 Etihad allows online check-in facility for its connections with the other partner airlines if the passenger provides frequent flyer number of these other airlines. These 28 airlines are given below. However, if the partner airline is the operating carrier, then online check in is not permitted and passengers have to check in at the airport.
| | |
| --- | --- |
| Aer Lingus | Gardua Indonesia |
| Air New Zealand | GOL LinhasAreas Inteligentes |
| Air Serbia | Virgin Atlantic |
| Air Seychelles | Hainan Airways |
| airberlin | Jet Airways |
| Alitalia | Korean Air |
| All Nippon Airways | Malaysia Airlines |
| American Airlines | Oman Air |
| Asiana Airlines | Philippine Airlines |
| Bangkok Airways | Royal Air Maroc |
| Brussells Airlines | South African Airways |
| Czech Airlines | Sri Lankan Airlines |
| Etihad Regional | Ukraine International Airlines |
| Flybe | |
Mobile Boarding Pass
Mobile boading pass of the airline is not available for all departure cities of the airline. At present, this is available for the following cities:
| | |
| --- | --- |
| Abu Dhabi | Istanbul |
| Athens | London |
| Bahrain | Madrid |
| Bangkok | Manchester |
| Belgrade | Medina |
| Brussels | Milan |
| Colombo | Munich |
| Dammam | Nairobi |
| Doha | Narita |
| Dusseldorf | Paris |
| Entebbe | Sao Paulo |
| Frankfurt | Seoul |
| Geneva | Toronto |
| Hong Kong | |
Etihad UAE City Check In
Check In can also happen at different cities 24 hours in advance of your scheduled flight time, except for the US bound flights.
In Abu Dhabi, you can check in at:
a) Abu Dhabi International Airport Expo (ADNEC) Check-in - Opens from 24 hrs to 4 hrs before flight departure time.
b) City Terminal check in at Abu Dhabi Mall- Opens from 24 hrs to 4 hrs before flight departure time.
In Dubai, you can check in at
a) Etihad Travel Mall on Sheikh Zayed Road- Opens from 24 hrs to 6 hrs before flight departure time.
b) Al Ain Airport- Opens from 24 hrs to 6 hrs before flight departure time.
Etihad Luxury Coach service operates buses from these destination in Dubai to Abu Dhabi Airport. Travellers are required to book their seats online on for availing this luxury bus service 24 hours prior to departure of the bus.
Similarly, there is an Etihad Chauffer Service which can be booked 24 hours in advance by Business and First Class passengers from any place in UAE to Abu Dhabi International airport.