For checking in to GoAir flights, it is required to carry a valid Photo ID card for verification purposes. This ID proof could be:
A Driving License
Pan Card
Voter ID card issued by Election Commission of India
Adhaar Card
ID card of reputed private organizations and semi-govt. enterprises
Passport
These IDs shall be taken in original and in printed form to the airport.
Go Air Check In Methods
GoAir allows check-in in two ways- Airport Check In at the Counter and Web Check In.
Go Air Airport Check In Times
The airport Check In begins 2 hours (3 hrs in case of J & K) and reporting time for passengers is atleast 45 mints prior to scheduled departure of flights. This time limit is 90 mints for Jammu and Kashmir and 120 mints for Bagdogra airports. Printed itineraries are also required to be produced.
You might also be asked to produce the credit card used to make the payment for the ticket. If you have booked ticket using credit card of another person who is not travelling, you must bring a print-out of the front and back parts of the credit card signed by that person and stating that he/she has allowed use of his/her credit card for your travel. It is also required to mention the name of person taking the journey, the sector on which he/she is travelling and the date of travel.
The closing time of check in counters is 45 mints and of boarding gates is 25 minutes prior to scheduled departure of flights. Failure to report within the stipulated time limits will be a case of 'Gate No Show' and this will result in your baggage being offloaded and all gross fare except the PSF and UDF fee being forfeited.
It shall be noted that refunds of PSF and UDF would be initiated only when Customer gives the request for same in writing within 15 caldendar days from date of cancellation or 'No-show'.
Go Air Web Check In
Go Air Web Check in can be done using the 'Web Check In' tab in the booking engine on its website. This is exhibited below: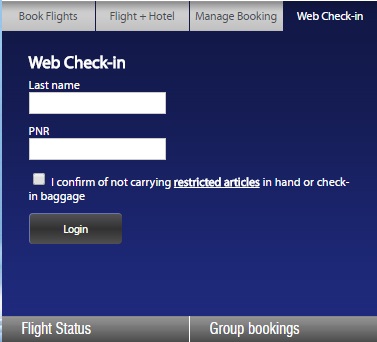 Go Air Online Check In through its website begins 72 hrs before scheduled departure of flights and continues till 2 hrs before departure.
It can be availed only on confirmed tickets and for up to 9 passengers travelling on a PNR. If more than 9 passengers are travelling on a PNR, then web check in can not be used.
Despite web check-in, there is a need for passengers to report at least 45 minutes before the scheduled departure of flights so that the valid ID proofs be verified and boarding passes be stamped.
For passengers with checked-in baggage, the reporting time is at least 60 minutes.
Check-in counters close 45 minutes before flight departure and boarding gate closes 25 minutes before.
Who can not avail Go Air web check in?
Passengers with infant, using unaccompanied minor service, groups more than 9 people, passengers requiring special assistance or in special medical condition are not allowed to use Goair web check in.