There are 3 different medium through which you can check in at Air Vistara- Web, Mobile and Airport.
Vistara Web Check In & Mobile Check In
Vistara web check in timelines: Online and mobile check ins would be available 48 hours before the scheduled departure of flight. Web Check in closes 60 minutes before flight departure time. Passengers shall reach boarding gate 15 minutes before departure of flight.
Vistara online check in facility is not available for unaccompanied minors, groups of more than 9 people, travelling with infants and people with reduced mobility and special assistance requirements.
Vistara mobile check in through the App enables you to do seat selection, meal preference and get the boarding pass via SMS or email.
Vistara Airport Check In
Airport check-in times: It is open 2.5 hours before scheduled departure and closes 45 minutes before scheduled departure time. For passengers carrying luggage and checking in through web, it is important to reach the check in counter at least 90 minutes before scheduled departure.
At the airport there are separate counters for check in for different classes of travel as well as for those who have already checked in but have luggage to process.
Vistara Return Check In
There is also a provision of providing the boarding pass to those passengers who are traveling back on Air Vistara within 48 hours of originating departure. This facility of Return Check in is to save you inconvenience and hassles.
Vistara Auto Check In
There is also a provision for auto check in facility. This is to be made use of when booking has been done on the website of the carrier by either the agents or the customer service representatives using the Amadeus reservation system. There is also an additional condition that the passenger should not have checked in at least 4 hours before scheduled departure of flight. A mobile number and an email ID is mandatory for this purpose.
Delhi Metro Check-in
Available between 12 to 2 hours before departure of flight at New Delhi Metro station. Dedicated counter available for this purpose. Oversize and fragile baggage not checked-in here.
Process of Web Check In on Air Vistara Domestic Flights
The process of web check in on Vistara enables you to get the e-boarding pass for your flight in your email. This boarding pass is required to be printed and then taken to the airport.
Step 1. Visit https://airvistara.com/ and click 'Travel Information'----> 'Check In' from main navigation.

Step 2: Enter your last name and Booking reference number. If you do not have booking reference no, please enter the e-ticket number.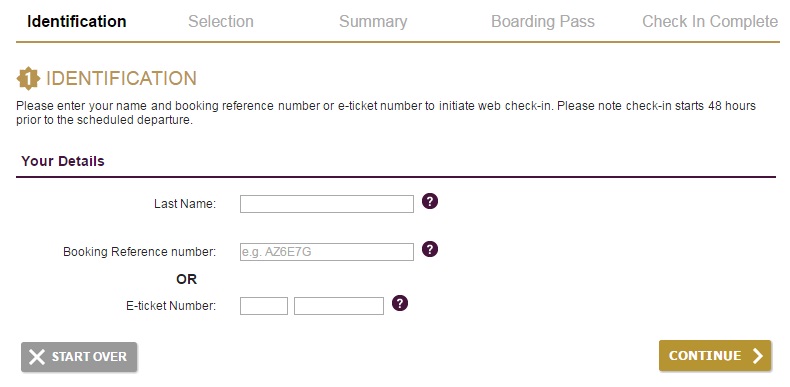 Step 3: Select the special services which you want to have. These include seats, meals, excess baggage, etc.
Step 4: Get the boarding pass